Sally's Tea Rooms
Named after Sally Williams, Sally's Tea Rooms opened in 2005. This beautiful tea room is situated in a purpose-built light and airy timber-framed building within the garden centre. Many customers visit Sally's Tea Rooms for its stunning views of Monmouthshire countryside, offering a delightful place for eating and drinking.
We offer a wide selection of hot and cold drinks, hot and cold snacks. Our toasted sandwiches and light lunches prepared on-site have an excellent reputation. A range of delicious home-cooked cakes, scones and roulades are too tempting to say no to. These are all freshly prepared for you using ingredients from local suppliers in our open kitchen.
Dine in comfort either in our timber-framed building (with under-floor heating for those colder days) or out on our large deck with stunning views of Monmouthshire countryside.
Imagine starting your day with a Full Breakfast, eating two slices of bacon, a sausage, black pudding, a fried egg, grilled tomato, baked beans, and a slice of white or brown toast, while enjoying a cappuccino. Doesn't this sound lovely?
We're also serving Lunch! Visit us for our famous Ciabatta Rolls, loved among our visitors. Do you fancy toasted sandwiches? Try the famous Brie, Bacon & Mushroom sandwich. We also serve Jacket Potatoes served with several toppings.
An excellent start to your day
Imagine enjoying your morning coffee with fried eggs on toast while you're reading the news magazine among the stunning scenery of the Monmouthshire countryside. Wouldn't this be the perfect start to your day? Sally's Tea Rooms offers the best place to start your day and is the best-kept secret you only tell your best friends.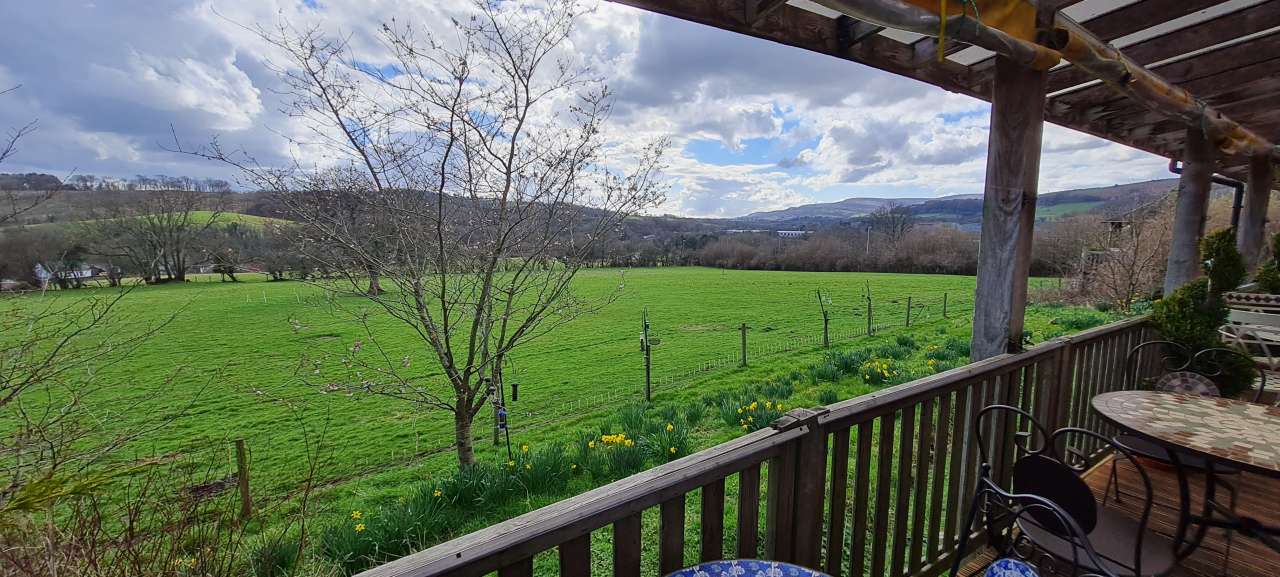 Animal-friendly tea room
Something unique at Sally's Tea Rooms is our kindness to animals. Say hello to Dylan & Cooper, our cute donkeys. Spot our pig Ethel, or view our free-roaming chickens in the garden. We're an animal-friendly tea room that allows dogs to join us for breakfast or lunch. Bring your furry friend with you, and we'll make sure you and your dog have the best time. Visit our dog-friendly and children-friendly tea room.

Homemade and local products
We're famous for our homemade delicacies. Our cakes and pies are homemade and taste like your grandmum used to make them. Try our scones with clotted cream, which are loved for their traditional flavour, and enjoy our roulades. We love to use products from local businesses in the area. Why not try the real dairy ice cream from Marshfield Farm.
Signature dishes loved by our customers
Try our toasted sandwiches with different toppings. Whether you're a carnivore, a fish-lover or a vegetarian, we have the best sandwiches for every taste. One of our customer's favourites is the brie, bacon & mushroom toasted sandwich. Come by and try it yourself! Do you prefer a ciabatta over a toasted sandwich? We bake our ciabatta fresh on site. Enter our tea room and smell the lovely scent of freshly baked bread. Any allergies or special diet? Please let our staff know, and our chef will ensure you have a great meal!
Even if you're disabled, you can enter our tea room (with one of our wheelchairs on-site), have access to our specially-designed disabled toilets, enjoy your dish and have the best time.