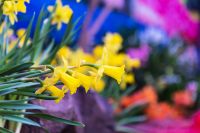 Daffodils bob in the breeze; buds appear on the trees – yes, spring's here at last. Spend an hour or two now getting your garden into shape, and you'll reap the benefits all summer long. Here are our top garden tips for March:
It's time to start planting again! Plant onions and first early potatoes in March, netting the onion sets to stop birds pulling them up.

Towards the end of March, direct sow hardy annuals like California poppies, Nigella, conflowers and nasturtium outdoors, for a fabulous summer display.

Cut back shrubby dogwoods (Cornus sanguinea) and willow (Salix) down to 15cm (6 in) above ground level to promote the growth of brightly coloured new stems which will brighten up the garden next winter.

Prune bush and climbing roses, removing all dead, damaged and crossing branches. Cut the stems of bush roses back by a third, cutting to an outward-facing bud and aiming to produce an open, rounded bush. Train climbing rose stems as horizontally as possible to promote flowering and cut back side shoots.

Deadhead daffodils as they finish flowering, but leave the foliage to die back naturally. This allows the bulbs to store enough food to produce next year's blooms.

Give your lawn its first cut of the year.

Get started on weeding. If you're planning on planting vegetables this year, get your vegetable beds clear of perennial weeds now.

Dig compost or well-rotted stable manure into your vegetable beds to prepare them for planting.

In late March, feed roses with general-purpose fertiliser and blueberries, camellias and rhododendrons with ericaceous fertiliser. Mulch fruit trees with compost or well-rotted stable manure, keeping the mulch clear of the trunk of the tree to avoid rotting.

Shrubs in containers will appreciate being top dressed with new compost. Remove the top 5cm (2in) of old compost and replace with fresh.

Lift and divide overgrown clumps of summer- and autumn-perennials like hostas, daylilies and agapanthus. Tease fibrous roots apart by hand or use two garden forks inserted back-to-back in a clump to lever it apart. For woody roots, use a sharp knife or the cutting edge of a spade. As well as rejuvenating the plants, this is a great way to get new plants for free!

Move deciduous shrubs and trees now, before they start putting on new leaves.

Get ready for summer by installing a water butt connected to a downpipe to collect the rainwater from your roof.

Put in plant supports now, while your plants are still small and it's easier to work around them. As the plants grow, they can be trained into the supports.

Clear patios and paths of moss, algae and weeds.
Nothing beats a trip to the garden centre in spring to get you in the mood for gardening, so come and see all our fabulous new plants to get some extra inspiration for your garden this year.