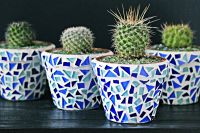 It is easy to add a touch of Latin to your home with colourful accessories and big, beautiful tropical plants. Latin artistry is bright and captivating with mosaics and fabrics mixed with a refreshing and exciting mix of art. It can be a big change to implement a full design like this to home so adding a touch of the style can go a long way to bringing in the fun and culture of Latin America to your everyday life at home.
Big tropical plants are a must to add a touch of Latin to your home
Think tropical beaches and rainforests when purchasing your plants. Big foliage and tall plants to stand in corners of the room overhanging the sofa or workspace will give you that Costa Rica feeling. From big Palms to glossy green Monsteras, the sky is the limit. Well, technically, your ceiling is in this case. Don't forget the Cacti!
Add a touch of Latin to your home with some mosaics
Think mosaic patterns, mosaic archways, mosaic fireplaces or mosaic kitchen tiles. There are so many options to include this touch of art to a home. From colourful patterns including flowers to different shapes and sizes, a Latin touch has to include mosaics!
Warmth yet uplifting is needed to add a touch of Latin to your home
Latin design isn't just colourful, but it also has earth tones to create warmth coupled with vibrant colours to uplift the soul. Yellow, red and orange are largely used to create a space like this and any home trying to add a touch of Latin should definitely consider these colours. Try terracotta pots to bare painted orange walls.
Add a touch of Latin to your home with bright accessories
There are so many accessories available to choose from to add some South American fun to your rooms. Consider putting up some Spanish style paintings with bright colours, or even hanging red and orange fabrics over your dining room chairs. Another great way is to bring the Latin in is to place some gorgeous ceramics on your shelves with a twist of Mexican.
Go big with flowers to add a touch of Latin to your home
Big, bold and colourful flowers are the way to go when trying to create a South American feel to your home. Find some oversized vases or urns and fill them up with big cut blooms such as Gladiolus, Lilies and lots of Alstroemerias. You will soon be relaxed but with a vibrant feel and be totally ready to salsa.
From colourful pots to big foliage plants, visit us in store to find your perfect Latin interior decor accessories.