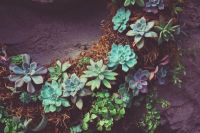 A moss picture frame can look like an exquisite work of art and bring a fair amount of both greenery and life into a home. Some moss walls aren't real and use fake moss to create the look, but we've put together our top tips to help you create the perfect actual moss picture frame.
Where will your moss picture frame be situated
You will need to decide where the moss picture frame will be, so you know what size frame or backing you need. Once you have chosen this, then you can look at different colours and styles of the frame to use. You can create so many different pieces of art with moss, from hanging frames to full walls and even on tabletops.
What moss to use for your moss picture frame
Moss is readily available in garden centres and nurseries so you'll have plenty to choose from. Preserved moss has been dried and kept at its best colour and needs very little care plus it comes in many colours. Sheet moss is flat and green and smooth to layout on a frame. It is often used for moss walls and very easy to work with. Mood moss is commonly used for it's thick, green appearance and ease of use. Perhaps the most well known is Reindeer moss which you can find in many colours. With so many options, you can get creative.
Build your moss picture frame
One way to build up your art piece is to attach insulation board to the plywood or from backing and then stick the moss to the insulation or attach it with floral pins. This protects the plywood and the wall behind where the frame will hang. A glue gun will be beneficial to get this done, and it's a lovely activity to do with family or just on your own for relaxation.
A creative moss picture frame
There are many ways to create a look. All of one kind of moss makes a bold statement but also you can create patterns with different colours of moss so before you get started to think about what you would like it to look like and then get to work on your masterpiece.
Mix up your moss picture frame
To add a new dynamic to your moss wall, why not add some air plants or succulents to your design? They can be treated similarly and require little water, so get creative and go for it, let your artistic flow go! You could also add driftwood, dried bark, dried twigs, dried seed pods for added texture.
To help you get started with moss and accessories, speak to our friendly staff who can guide you to the right products.