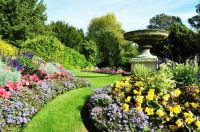 We have made a list of 10 reasons to go to your county's garden show next year. Unfortunately, we can't enjoy the lovely designs and gardens at the county garden shows. Make sure you don't miss it next year, it's worth it. Please, stay safe and stay healthy.
Top 10 reasons to go to your county's garden show next year
1. Gorgeous plants
There will always be a whole lot of beautiful plants to enjoy at the county show, many which have been bred by local nurseries. Enjoy the many different varieties to view, buy and get excited about planting in your garden.
2. Inspirational gardens
Visit and view the lovely show gardens at your county show. It is always great to see local designers compete for best in the show and enjoy the inspirational ideas that you can take away to implement in your own garden. It's also an excellent opportunity to chat with local garden designers if you would like your garden landscaped.
3. A glimpse of a Royal
If Royal is in the title, then you just might get to see a Royal. Many of the Royal family are patrons of county shows or just like to visit so if you see the crowds part and many security and police officers get your camera ready for the perfect photo opportunity.
4. Plant shopping
Where there is a garden show, there will be plants to buy. It's always great to support local businesses, and this a significant opportunity to do just that. Meet local companies who can help you get the plants you have always been looking for.
5. Ask for advice
Gardeners love to talk about gardening, so going to you county gardening show provides you with an opportunity to chat with experts, enthusiasts and fellow visitors to find out more about gardening or any burning questions that you have.
6. Meet new plants
At the county garden show, you will meet new plants, you've never had heard of before.
7. Home and clothes shopping
County gardening shows almost always have some homeware, accessories and clothes on display and for sale as well. So not only can you wander around the show and enjoy a whole day of plants but you can also pick up some great accessories for your home.
8. Meet local nurseries
If you've never had the chance to meet or visit all of your local nurseries and floral businesses yet, you'll find a large selection of them at your county show. You can meet and greet all of them in one single day! Bonus!
9. Enjoy the competitions
Most county shows will have many different varieties of plants on display. You can take a look at the best of the best Sweet Peas, Delphiniums, Floral creations and even Cacti. There will be a lot on the show, and you will see which have won their category with 1st, 2nd and 3rd place certificates.
10. Have a jolly beautiful day out
Whatever you do decide to spend time doing at your county show, the best part os that its a lovely day out on your own, with friends or your family. Plus, there is always good food and drinks as well.
Check out your local show for next year. You never know what the future holds, so enjoy every moment of it.