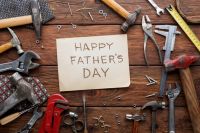 We have the best Fathers Day gift for your dad to surprise your dad and give him the best Day. On the third Sunday in June, this year on June 21, it's time to highlight your love for your dad. If it's your dad, granddad, stepdad, father in law or bonus father, all fathers need to get extra attention today. In our store, you'll find plenty of creative ideas to surprise your dad. Here are our tips for the best Fathers Day gift for your dad.
The best Fathers Day gift for the dad who likes the outdoors
Think of the beach, hikes and picnics. This one is for the adventurous dad who likes to be outside as much as possible. From camping to rafting, this gift will make sure he is fighting fit with a supply of food and refreshing drink. A cool box or cool bag is such a thoughtful and useful present to gift your outdoor living dad this year. You never know, he might offer to take you on a picnic as well.
For the dad who likes his meals hot, this is the best Fathers Day gift
If your dad likes to add sauce to every meal he makes or is served, how about a pack of hot sauces for him to try? This can be an excellent gift for the dad who likes it hot! Many are packaged with great fun graphics from mild to hot, so your dad will never turn up for a meal without being able to heat it.
The best Fathers Day gift for your dad if he likes to BBQ
Who doesn't love a BBQ? We know that dads love to get the BBQ up and running to feed family and guests with that love the charred taste of burgers, sausages and vegetables. Why not go big with a new BBQ as a present or if he already has his dream BBQ, there are plenty of utensils, BBQ books and fun aprons. So he'll be kitted out with everything he needs to make his next BBQ a success.
If your dad is a gardener, this is the best Fathers Day gift for your Dad
Plants, plants and plants! Anyone who loves gardening will be pleased to receive a new plant. Why not pick up a new Rose with a name relevant to your dad or perhaps a new fruit Tree or a pot already planted up with the perfect perennials. If he has a favourite plant, why not pick one up, add a ribbon and a card to the pot and make him know how special he is to you.
The best Fathers Day gift for your dad who loves DIY
If your dad is handy around the house, he'll always be happy to add some tools to his toolbox! So why not splash out on that drill set he's always wanted. Or perhaps, he needs some new gardening tools. No one can have too many spades and forks, so pick up a good sturdy set and wrap them up with love.
No matter what you decide to give to your dad for Fathers Day, he will know you love him, and nothing compares to spending time with him, so make sure you grab a few hours to spoil him.
For tools, plants, and so much more we have just what your dad will love for Fathers Day, in store.