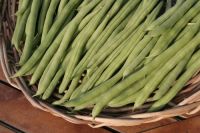 With the rich colours of autumn starting to glow, September is an especially lovely month for gardens. While the warm weather lasts, it's time to gather in the harvest and start preparing the garden for the colder months ahead, as well as planning for the joys of another spring.
Tips for a great September harvest
Want masses of runner and French beans? Keep picking! Cook them, freeze them or just give them to your neighbours, but keep on picking to get the most from your plants.
Pinch out the growing tips of cordon tomatoes (these are the tall ones that need staking) so that the plants put all their energies into ripening their last fruits.
To help pumpkins ripen, remove any leaves that are shading them from the sun, and put a slate tile under pumpkins to keep them off damp ground.
Three weeks before harvesting maincrop potatoes, cut off all foliage and dispose of it. This reduces the risk of blight spores getting into the soil and damaging the crop.

What to plant in September
Planting spring bulbs is the perfect antidote to the pre-winter blues, with the promise of dazzling displays in a few months' time. Daffodils, hyacinths, crocuses and snowdrops can all be planted in September, although it's best to wait until November to plant tulips, to reduce the risk of viruses.
September's also a good time to sow hardy annuals like cornflowers, poppies and love-in-the-mist, giving you more colour to look forward to next year. And for colour now that will last well into winter, fill pots and borders with autumn-flowering heathers, violas and cyclamens.
Finally, autumn's the ideal time for planting trees and shrubs, giving their roots time to establish over winter ready for new growth in spring.
Top 10 gardening jobs for September
Divide summer-flowering herbaceous perennials like hardy geraniums, salvias and hostas
Keep on deadheading summer bedding and it'll carry on flowering until the first frosts.
Deadhead roses, penstemons and dahlias for late summer colour.
Water camellias and rhododendrons regularly – next year's flower buds are developing now.
If you're growing brassicas like winter cabbage or kale, net them to keep the birds away.
Net ponds before the leaves start to fall.
Get started on autumn lawn care - scarify, aerate, top-dress and feed your lawn, and cut it on a higher blade setting as growth slows down for the winter.
Raise pots on pot feet to stop them getting waterlogged and frozen over winter.
Clean out greenhouses and remove shading to make the most of lower light levels.
Take cuttings from pelargoniums and fuchsias.

Our garden centre is packed with plants to keep your garden looking great right through the winter and well into spring, so why not pay us a visit? Our friendly staff are always ready to help and advise.