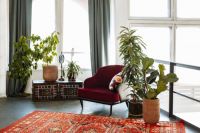 Would you like to create a Hippy Chic style home to relax in after a day at work? A bohemian look full of patterns, pompoms and exotic flowers with tropical colours and animal influences. The Hippy Chic stye is hugely trendy right now so let your creative juices flow at home with jungle green and colourful accessories. Need some ideas? Try these:
Get the Hippy Chic look with the right Pantone backdrop
The backdrop to achieving the bohemian hippy chic look has to be green. Try Pantone 7743C on your walls, either a feature wall or go big and cover the whole room. This solid colour will make the room feel like a jungle and means other colours will stand out and look stunning. If you go for a feature wall, pick a lighter colour for the rest such as a bright white. This will make your accessories really stand out.
Use plants, flowers and birds for the Hippy Chic look
You'll need big plants, macrame hangers and exotic flowers to really start setting your home apart from the rest. So now you have the perfect green background, it's time to start adding in some perfect accessories. Try Strelitzia (Bird of Paradise) and some big foliage plants such as Monstera. Don't forget some colourful Macrame to hang your pots with Ceropegia Woodii (String of Hearts) trailing out of. Don't forget birds make the jungle! Add some exciting, colourful accessories including bird prints on cushions and curtains.
The Hippy Chic look needs some colour
With bright patterns and the green backdrop, add in plenty of colourful items such as fringed cushions and pompoms hanging above the curtains. Think of the bright pink Pantone colour 674C paired with the toned-down yellow 609C. Bohemian is definitely not dull, so embrace the colour scheme and let your creativity go wild.
What furniture helps to create a Hippy Chic home?
With a twist of the luxurious along with a relaxed emphasis, the best sofa has to be a velvet comfy, colourful piece of heaven with throws and cushions for that extra comfort. Paired with some wooden tables adorned with plants and shelves with hanging plants above, you will be already on your way to creating that hippy chic look. You will need something to put your feet up on so think beanbags and footstools. Mirrors are a must to finish off the look along with your own touch of imagination.
Don't forget the Hippy Chic floor
A wooden floor is what it is all about here, although some funky tiles could also work. Rip up the carpet, sand down those floorboards and stain them. You won't regret it!
Create the Hippy Chic looks with plants and accessories from in-store. We can even help you choose the right items for the look.