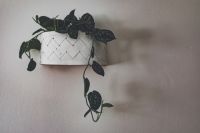 Brighten up your indoor space with these 7 Autumn houseplants:
1.Christmas Cactus
One of the most lovely flowering plants at this time of year is the Christmas Cactus. The plants can grow really quite big and at the tips of the stems pink or white buds appear before they burst into bloom. They are a stunning sight when in full flower and the petals even have a shimmery glow as well. Easy to look after, they need a good houseplant potting mix and little water.
2. Ivy
Often underrated as a houseplant, Ivy has an undeservedly bad reputation in the garden. As a houseplant, Ivy is a great plant for removing toxins from the air plus it looks great trailing over a shelf or hanging in a macrame hanger. If you have grown Ivy long enough indoors you can even hang it with some fairy lights, making your room cosy on an Autumn evening.
3. Amaryllis
The big blooms of the Amaryllis can't be missed and with so many colours to choose from you can grow one to suit every room of the house! An easy flower to grow from a gigantic bulb in a pot with some sunshine and water, you will soon see the stem grow tall and even many flowers at once. From pink to red or white, an Amaryllis is a great Autumn indoor plant to grow.
4. Kalanchoe
Pretty little flowers in many colours, the Kalanchoe is the perfect plant for a sunny windowsill, giving you plenty of colour in pinks, oranges, whites and reds. They need sandy soil and water when the soil is dry. A great benefit to owning a Kalanchoe is that they are not only easy to look after but also easy to propagate.
5. Cactus
Cacti are the best plants for a dry home and give interest all year, no matter what the weather is like outside. They can even give you a holiday feel during the Autumn months and many people even decorate them with lights and fun Christmas decorations.
6. Satin Pothos
The perfect plant for a shelf or to hang up from a ceiling. The trailing vines grow really quickly and need very little attention. The Satin Pothos also has silver markings on the leaves which provide a touch of glitter in the Autumn months.
7. Sanseveria
A plant that is great for all year but especially for the darker days and spaces in the house. Sanseveria is a great plant for clearing the air of toxins, so especially useful for the autumn months when the windows don't get opened so much. Sanseveria is also known as 'Mothers in Laws Tongue' or 'Snake Plant' and continues to produce oxygen, even overnight.
Brighten up your home with a new houseplant or two from our selection in store.