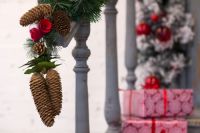 As the festive season begins, it is time to start decorating your home. The first place to start is the entrance so we have put together our top 5 decorations for your porch to make a seasonal entrance to your home.
1. Light it up
Nothing beats fairy lights when it comes to Christmas. Your porch is the perfect place to show guests you are celebrating the festive season in style. With so many available you could decorate your porch in your own personal style with white light, multi-coloured lights or flashing lights. We think some traditional white lights draped around your porch on a timer is both the easiest and loveliest way to decorate your porch.
2. A grand topiary entrance
Add some sparkle to the outside of your porch with two cone-shaped topiary shrubs in sparkly or red pots. For that added sprinkle of the festive season, twirl some outside lights around both of them as well. This is a great way to come home from a day at work, to see your porch with perfect topiary and coloured lights for the festive season.
3. Natural decorations
At the time of year when leaves are blowing from the trees, twigs have fallen and pine cones are around, why not make your own decorations for inside your porch with natural materials you have collected in your garden. Not only is it a good way to clear up any debris but you can also make good use of what you have found by allowing them to dry out and then painting or sprinkling glitter over them ready to decorate your porch.
4. A Christmas tree
While you may have your main Christmas tree inside, why not decorate a fun smaller tree to stand in the porch. Put it onto a small table and decorate with baubles, lights or even with your natural handmade decorations and celebrate the festive season from the moment you walk through the door. If you want to personalise it, you could add photographs of family and friends so when they come to visit they can see how much you are thinking of them at Christmas.
5. Make a festive scene
If you want to go all-out festive, why not create your own festive scene with fake snow spray, cotton wool and plenty of baubles. Use a selection of festive stencils for the windows and spray snowflakes and Christmas trees then add cotton wool along the edges like fallen snow along with colourful baubles hanging from the ceiling. If you are going all out, you could do this along with all of the other 4 suggestions above!
We are ready for the festive season in store, visit us soon to get everything you need for your festive porch.