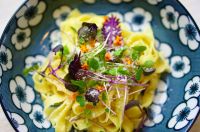 The festivities can take over any kind of healthy diet plus there is less growth in the kitchen garden but there is a very special something that can be grown on a windowsill or in the greenhouse during the winter months. Plus you'll be harvesting within one to three weeks. Microgreens are easy to grow and packed full of nutrition, in fact, more than the fully matured vegetable. Microgreens are the seedlings of many well-loved vegetables and herbs, simply grown to a few inches before harvesting. Perfect as garnishes, mixed in soups, salads and sandwiches to add a packed punch of nutrition to a dish.
Easy to grow microgreens for fresh nutrition over winter
Allowing the seedlings of many common herbs and vegetables to produce leaves but not growing to more than 10cm gives them the name of Microgreens. The small stems and leaves can be full of vitamins and minerals depending on the type you grow. The same rules apply for all so take a pick from seeds such as Broccoli, Rocket, Sprouts, Cress, Beetroot, Coriander and Peas plus so many more. Studies have shown they can be rich in enzymes enabling them to be easily digested and full of antioxidants. Only used in cooking since the 1980's they are a new trend, but hopefully, one to stay for a long time.
How to grow microgreens for fresh nutrition over winter
Microgreens are such an easy way to grow your own at any time of the year, simply sprinkle seeds onto a tray of compost and cover with a very fine thin layer of compost. The seeds do not need to be sown thinly and the compost doesn't have to be good quality - as long as it isn't weedy. Remember the seeds don't need nutrients to grow because they wont become mature plants. They just need enough to shoot and grow to a maximum of 10cm tall.
Microgreens for fresh nutrition over winter are easy to care for
Makes sure you keep the soil moist but not overwatered, so spraying with a fine mist is a great way to ensure your microgreens are kept in the right conditions. The tray of seeds will need to be kept on a sunny, warm windowsill or in a greenhouse to allow germination and just watch them grow - really quickly!
Harvesting is the fun part when growing microgreens for fresh nutrition over winter
Harvesting can be 1 to 3 weeks after sowing, depending on the variety and many can be left to grow again once harvested. Simply use scissors to cut the microgreens when they have a few true sets of leaves and not higher than 10cm. Leave part of the stem in the soil for a second harvest and keep moist.
For seeds, trays and compost, not forgetting a sprayer and everything you need to grow microgreens over the winter months, visit us in-store.