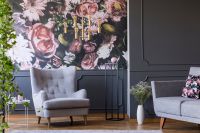 Houseplants are a big trend at the moment, one we really hope will stay for a very long time. They add to a home in so many ways from cleaning the air of toxins to softening your interiors. Greenery relaxes the mind and having plenty of it in your home can also help you to feel in touch with nature. With all of this in mind, there is no wonder plant and flower themed decoration is also big right now, from flowery lampshades to rugs and other accessories but why not make a statement with flowery or plant-themed wallpaper. Here is how to combine patterned wallpaper with your houseplants.
Big bold prints and houseplant rules to combine flowery wallpaper with plants
Firstly there are no rules! It is your home, your style and your choice. So if you want to go big on flowery or nature-themed wallpaper and add loads of houseplants to your room then go for it. Why not try jungle patterned wallpaper with big plant pots full of large leaf plants such as Monstera or a big Strelitzia for a truly tropical feel.
Combine flowery wallpaper with plants and create a feature wall
Why not go big on impact and create a feature wall with a bold flower print? That makes for a real statement feature in your home. Use the rest of the room to display your plants on shelves and tables so you end up with a room full of plants without detracting from the big feature wall for everyone to see.
Go simple to combine flowery wallpaper with plants
Why not pick a beautiful flowery patterned wallpaper and dress it with just one single plant on a table in front of that wall? It's so basic but incredibly effective. Try a baby pink flowered wallpaper and a small wooden table with a white pot and your favourite houseplant in front.
Combine flowery wallpaper with plants and really mix it up
No need to keep it simple if you want to go eclectic. Pick a busy wallpaper full off flowers, plants and patterns, then stand a block shelving system if front full of plants. It will make for a busy wall with something to look at every time you pass on by.
Go tropical and combine flowery wallpaper with plants
Create a jungle theme in your home with wallpaper that has a tropical theme. Big lush palms and foliage plus brightly coloured flowers and pretty birds as well. If that isn't enough, stand big plants around the room and jungle themed accessories to finish off the look. Don't forget some macrame pot hangers and plenty of trailing plants.
Style your room in flowers and plants with a range of goods from in-store. From large houseplants to patterned accessories we can help you create the look you desire.