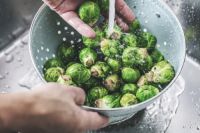 Try some delicious plant-based Christmas recipes this festive season instead of the traditional turkey and surprise your guests with some healthy plant-based, festive food. The options for plant-based food are endless now with so many ingredients and recipes to choose from. From using vegetables with tofu, seitan or jackfruit you can create some interesting and incredibly tasty plant-based dishes. We have picked some great recipes for you to try.

A plant-based Christmas recipe must include sprouts
How can any festive food table be without sprouts? Homegrown of course taste all the better but either way, forget those over boiled, strong flavoured sprouts of the past and try cooking up a delicious dish of fried sprouts with chilli flakes. This really easy dish takes no time and can even win over lifelong sprout haters! Lightly boil some half-cut sprouts and at the same time fry some garlic in a little oil. Transfer the sprouts to the frying pan, add in some salt, pepper and chilli flakes and brown the outsides of the sprouts. Don't forget to squeeze some fresh lemon for a nice zing.
Sweet potatoes in this plant-based Christmas recipe
Oven bake or boil your sweet potatoes whole with a few cuts in the skin. While they are cooking, until soft but still in shape cut some apples, walnuts and cranberries then mix them all together in a bowl. When the potatoes are cooked slice them lengthways, scoop out the centre and ox with the other ingredients in the bowl. Then scoop the complete mix back into the sweet potato skins and sprinkle some cinnamon on top for that extra special Christmas taste.
Plant-based Christmas recipes have to include a sweet treat
Makes some decadent chocolate truffles for the Christmas table, to keep everyone happy plus they are very easy to make. Put some pecans and walnuts into a food processor and pulse them down then transfer them to a bowl. Add some pitted dates to the food processor and pulse down. Add in some cocoa powder and pulse as you slowly add in the nut mix. Make sure you leave some of the nuts for decoration afterwards. Use an ice cream scoop to make balls and place onto a baking sheet to chill in the freezer. Melt some chocolate over a low heat then dip each truffle in the melted chocolate
There are so many ways to enjoy a fully plant-based Christmas and amaze everyone with your cooking skills as well. It can be really easy, quick and fun to create new dishes and flavours with plants. Not only that but it's good for you and the environment.
Grow your own food to make plant-based recipes and find some great recipe books in the store.