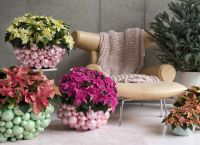 The Poinsettia is especially popular because of its beautifully coloured leaves. Whilst these are often seen as its flowers, these are actually bracts that are formed in a star shape. At this time of the year, you might be used to seeing the Poinsettia in red mostly. However, this year pastel colours such as pink, apricot, lemon and salmon are trending.
Origin of the Poinsettia
The Poinsettia, or Euphorbia pulcherrima and even better known as Christmas star due to its shape, is considered ads quite a holy plant and is recognised as a symbol for Christmas around the world. The Christmas star originates from Mexico and Central America, where the poinsettia grows as a herbaceous shrub that can reach a height of 4 metres. Legend has it that a poor Mexican boy, unable to afford a proper present to make it to church, picked some Poinsettias to bring for his Christmas gift. The plant blooms outdoors from November to February whereas the bush is bare during summer. The true, small, flowers of the Poinsettia can be found in the middle of the star shape and are rather small.
Looking after the Christmas Star
Some care tips to get the most out of the Poinsettia:
They like a light spot, though not in direct sunlight
Avoid placing the Christmas star right above a radiator or next to a log fire
Make sure the soil is slightly damped at all times
In case the leaves turn yellow and drop off, place the plant in a cooler and lighter spot and increase humidity
Give the Poinsettia plant food once a fortnight
The Poinsettia display trends for December 2019
This year's Poinsettia trend evolves mainly around its pastel colours rather than the red we got ourselves accustomed to, though of course, you will continue to see the classic red Poinsettias too. The Christmas Star works great in combination with Christmas decorations as well as in festive pots. Another idea is to use the Poinsettia as an alternative for the Christmas tree, and decorate the plant with fairy lights.