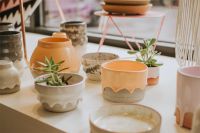 Create a cosy comfort look with a touch of rustic for a contemporary and functional environment yet with the feel of homely comfort. It is a beautiful look to create with tones inspired by our wonderful natural world. How do you get the look though? We have some pointers for you below;
For the cosy comfort, look invest in some handcrafted accessories
This is all about the contemporary lifestyle but with a rustic twist. One of the best ways to create this vibe is to go shopping for some individually handcrafted accessories that no one woes will have. Make sure they are all made with natural material and then add them to your room alongside some accessories that you can make yourself, such as dried flowers and foliage in wooden handcrafted bowls or handwoven baskets.
Authentic ceramics help to create the cosy comfort look
A contemporary yet cosy room needs some beautiful and authentic ceramics to bring everything together with a touch of rustic charm. Not only is searching for new items for the home a great way to find inspiration and ideas but you are bound to find something personal to you. Ceramics could be figurines, bowls or vases, the list is big. Look for calming, peaceful hues of nature with Pantone colours 9183C and 7504C.
Accessorise the cosy comfort look
When you have finished off placing your sofa and table, it will be time to think about those all-important finishing touches. To complete the natural and cosy look add some woollen throws across the sofa and some linen cloths on tables. Pick colours such as a purple 7658C and light orange 156C to stand out yet complement the ceramic and handcrafted accessories in your room.
The cosy comfort look need some plants
To truly create the look, houseplants are a must. Pot them into large ceramic pots and add some to shelves and bright corners of your rooms. A large Monstera would be perfect and on the shelf some trailing Ivy or String of Hearts would fit in perfectly well. Try a few Autumnal coloured pots for a pop of pretty colour as well.
The style is one that includes tones of dried vegetables and plants, plus consider the colours of Autumn leaves. You could even add in a touch of gold as well for that lovely sparkle to compliment the tone. It is a lovely style that can be used throughout the home in all rooms, not just the lounge. It particularly suits the dining room with a wooden table and a vase of dried flowers. Don't forget the handmade ceramics for the sideboard.
Your home could be full of cosy comfort with ceramics, vases, plants and everything you need from our nursery.