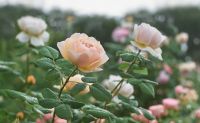 There is nothing like a rose to cheer up a garden, room in the home or on the allotment. When the Christmas decorations have been put away after the festivities why not enjoy some fresh, colourful roses in a vase or plant some bare-root plants out this month? With so many roses to choose from, there is one to suit every situation and they are much easier to look after with just a few tips.
A rose for every garden situation
There is a rose for every garden but how do you choose which one is right for you? You can pick from hybrid tea roses, climbing and rambling roses, shrub roses and container roses to name a few. Some roses grow more vigorously than others, some have bigger thorns and others repeat flower all summer long. Why not decide on the colour you would like and then look at where you would like to plant it. When you know that information, read up about the different varieties until you find the one you would like. Don't forget some are more fragrant than others as well.
When to plant a rose
During November to February, it is a great time to plant new roses out. Purchase bare root roses which are not only cheaper but by planting them at this time of year, it allows a strong root system to develop ready for growing in Spring and Summer. Make sure the planting area has been fed with some well-rotted organic matter and plant your rose as per the instructions.
Using your rose inside the home
Whilst roses look fantastic in the garden, they are also used in many drinks and cosmetics so you can also use your rose to make rose water or tonic, rose tea or rose lip balm and cream. There are many options and all are good for your skin. So why not use those petals for some natural cosmetics or drinks.
Cutting a rose for the vase
Roses are one of the most important plants for a cutting garden and there is no wonder why! They are fragrant and beautiful plus often used in bouquets and special gifts. When you grow your own roses, there will be the opportunity to use them to cut for a vase in your home or perhaps for friends and family so make sure you pick the colour rose you would most like to gift, to grow in your garden.
Roses are one of the most beautiful flowers and a must for any cottage garden but work well in almost all gardens. With good care and pruning, they can last for many years. Pick a bare root rose from our selection in store for your garden.