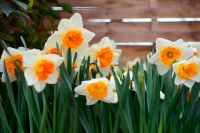 Take a moment this month to look around, and you can see the garden coming back to life in front of your eyes. Snowdrops flower, clumps of grey-green daffodil leaves poke above the ground and the air is alive with birdsong. Spring's definitely on its way! Get a head start on the garden this year with the gardening tips below:
Our top gardening tips for February
The most important tip for this month is to avoid standing on soggy soil. Wait for dry days to do your gardening, and if you have to walk over beds or borders, put down boards to distribute your weight evenly across the soil, reducing compaction.

Prune winter-flowering shrubs like Mahonia and Viburnum x bodnantense once they've finished flowering.

Give wisteria its winter prune, taking all last year's shoots back to two or three buds from the main stem.

Divide big clumps of snowdrops 'in the green' (i.e. once they've finished flowering but their leaves are still green). Now's also the best time to plant new snowdrops 'in the green', to give you a great display next spring.

Cut back Cornus (dogwood) and Salix (willow) bushes to about 15cm (6in) above ground to encourage the growth of new coloured stems that will brighten up the garden next winter.

Prune late summer-flowering clematis (group 3) right down to healthy buds 30cm (1ft) from the base of the plant

Prune fuchsias, taking last year's growth back to one or two buds from the old wood, and cut buddleja stems back to about 30cm (1ft) above ground level. Once winter jasmine has finished flowering, cut back the flowered shoots to strong buds close to the main branches.

Cut back deciduous grasses like Miscanthus, and comb through evergreen grasses like Carex and Festuca to remove dead foliage. Cut away the old leaves from epimediums now before the delicate flowers appear.

Prune autumn-fruiting raspberries by cutting all the canes back to ground level.

Start chitting first early potatoes by leaving them somewhere cool and bright so that the 'eyes' sprout shoots. This takes about 4-6 weeks, so if you chit them now, they'll be ready to plant in mid to late March.

Cover strawberries with cloches for an early crop.

Sort your vegetable seed packs and file them by sowing month, so you're less likely to forget what to sow when.

Prepare your vegetable seed beds by removing any weeds and digging in compost. Lay fleece or sheets of black polythene on the soil to warm it up ready for early sowing.

Give glasshouses and cold frames a spring clean by washing them down with warm soapy water.

Deadhead winter pansies to encourage a new flush of flowers for spring.
Whatever you've got planned for your garden this spring, we've got everything you need in the centre. Come and visit us to pick up your seeds, plants, tools and much more.