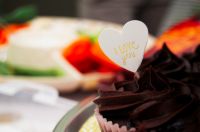 These gifts you can make for valentines day will help to bring a really personal touch to your romantic gift-giving for your valentine this year. There are many gifts and cards available perfectly suited to your loved one but why not go that extra mile and spend a little time making and personalising something for that extra special splash of romance.
Baking a gift you can make for Valentines Day
Even if you are not a great baker, no one can deny time and love spent on a present so get your apron and the oven on. Pick a heart-shaped cake tin and an easy to follow recipe, perhaps the recipients favourite flavour and then get baking. Don't forget to decorate the cake, there are so many ways to one easy, quick and fun way is to cover the whole cake with frosting and cover with lots of red sprinkles. Alternatively, why not make cookies cut into letters and spell a message for valentines with colourful icing, plus there are always cupcakes as well to try.
Say it with flowers, with this gift you can make for Valentines Day
Anyone who receives a big bouquet of red roses on Valentines Day will be very happy and just a single red rose has just as much impact but instead of cut flowers why not pick your perfect perennial and gift that instead? Perennials will last for years in the garden and every time it blooms, the memory of when it was given will be remembered. Make it your own by tying some red ribbon around the pot and placing a special message on top.
A gift you can make for Valentines Day with decorations
Why not decorate a room or even the whole house to show your loved one just how much they mean to you. If you enjoy sewing, why not make your own heart cushions from big ones for the sofa to smaller ones to hang up on string or ribbon around picture frames. Why not use fallen twigs and stems to spray with red glitter and display them around your house. Don't forget to make a garland giving a message such as 'love you' or even 'marry me'! Why not make a heart-shaped wreath with wire to create the shape and then attach Eucalyptus, materials from the garden and some red roses.
Make your own gift basket, a great gift you can make for Valentines Day
If you know just what you want to get or what your loved one really wants why not make your own gift basket filled with all of the most lovely things from bubble bath to candles, sweet treats and maybe even some jewellery! The options are endless.
Make your own gifts with items from in-store, from plants to candles and everything in between.