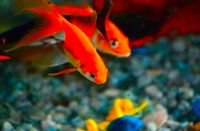 Having an aquarium and keeping happy fish is a trendy choice for people all around the world. There is no wonder because not only can an aquarium bring life to home but just watching fish swimming in the water can be therapeutic in itself. There are many accessories and ways to set up a tank, depending on the type of fish you would like to keep. Here are our tips for keeping your fish and tank in good condition.
Keeping things clean is imperative for keeping happy fish
Fish will need food, water and the right environment to thrive on living happily and having an aquarium means they need you to stay on top of cleaning it. You will need to decide on the type of fish you would like to keep and then pick the aquarium suitable. When you do decide, make sure you have all of the knowledge needed to keep the tank clean as fish can't survive in dirty water. There are many ways to clean a tank and books both online and in print available to help but usually, the tank will need cleaning once a week, plus pH levels testing.
Keeping happy fish means feeding regularly but not overfeeding
Did you know that fish don't have stomachs? This means they will keep on eating as much as they can, and they don't know when to stop! The best way to know how much is the right amount is to feed twice a day with flakes or pellets and feed what the fish wants to eat within about two minutes. Make sure you check when you buy your fish, how much they should eat. There are other ways to feed if you are not home. There are block feeders and automatic feeders as well.
Equipment needed for keeping happy fish
Along with the aquarium, food and water, you will also need a filter system for the tank. The size and type will depend on the fish you would like to keep. You may need an air pump and a heater, but some fish don't necessarily need a heater. This is why it is essential to check with the needs of the fish before you start. You can buy packs that require everything, which is a great way to get started easily and quickly.
Accessories for keeping happy fish
There are so many accessories available to place in your tank. Firstly decide if you would like to have real or pretend plants and add in places for your fish to hide and play. The options are endless! There are colourful rocks and stones, fun castles and treasure chests plus so much more.
If you would like to keep fish, we have a pet store with experts to help you choose the right fish and accessories. Come in to visit us and find out more.