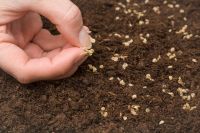 Any gardener will know there are seeds from leftover seed packets every year as the seed packets increase rather than decrease! It is just too tempting not to buy the many packets of seeds available, even if they don't end up being sown and grown. You only need to look at gardeners on social media to see the vast collections of seed packets annually organised into monthly sowing to see just how many seed packets are hoarded each year. But what do you do with the seeds leftover in each packet after you've sown all you need?
Go to a seed swap with seeds from leftover seed packets
There are many seed swap events held in villages, towns and cities all over the world as the idea becomes more popular. So if you have plenty of leftover seeds, why not make sure they are contained safely, labelled and find your nearest seed swap. You never know what you might find there and could end up with all of the seeds you've been after for years. Plus it is a great way to meet new gardeners and learn about growing. If you can't find a local event, why not start one yourself?
Give seeds from leftover seed packets to friends
If you have some lovely seeds left over why not package them up in personalised paper packets and give them to friends and family as presents. Your favourite seeds can be shared plus since you will be growing them as well, you can chat with the recipients about how to grow them and even have fun comparing them as they grow. You could print personal messages on each packet and make your friends and family feel special.
Save your seeds from leftover seed packets
Many seeds can be kept dry, cool and safe for a few years. Make sure you check the original packet they were in to see the use-by date. If you have plenty of time, why not either tape up the packet safely for use next year or put them into a new, dry and labelled paper envelope and file them away safely for later use.
Seeds from leftover seed packets can be donated
Many projects will happily accept donations of seeds and plants so check out your local community gardens, community allotments and school gardens. If you make contact with them and check if they would like some of your seeds, this can be a great way to pass on not just your leftover seeds but also spread the love of gardening to as many people as you can.
We have a large selection of fruit, flower and vegetable seeds ready for you to sow this year. Come in-store to take a look.