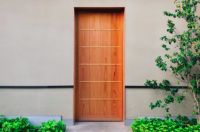 It is easy to follow the Japani style in your home and to take design elements from Japanese homes can be done anywhere in the world, no matter what size home you have. Look at wooden frames, narrow walkways and corridors, folding screening and think about purity and tranquillity. Imagine being in a calm, pure and relaxing room in your home. A perfect place for reflection, peace and time out. That is the Japani style. If you are wondering how to create that style, start with our tips below:
1. Think zen to follow the Japani style in your home
This kind of style is all about clean and mess-free living. Clearing away 'stuff' and being on top of organising cupboards helps to balance the home and the mind. So if you have piles of books or magazine, get rid of what you don't use and place them neatly on a bookshelf or even put them away in a hidden cupboard in boxes. The room needs to feel clean, clear and easily liveable for the total zen feel.
2. Follow the Japani style in your home and be in love with nature
It is all about letting nature into the home in numerous ways with great love and respect. Japanese culture has a strong connection with nature, so considering growing Bonsai trees inside and bamboo pots that you can use as screening rooms. Plants for the bathroom could be Orchids for a delicate touch of colour and remember to keep it mostly green and straightforward. It is essential to allow light into the room, and if you can have large windows with a view of nature, all the better.
3. Use screening to create privacy to follow the Japani style in your home
You may notice that screening is a big design element in Japanese homes. From large wooden sliding doors with translucent paper 'windows' to smaller freestanding decorative screening, most homes will have something like this. It is ideal for smaller homes as it saves space and creates zones in the home. These screens are great because they allow natural light in but still provide privacy.
4. Follow the Japani style in your home with natural wood
Completing the zen style means incorporating plenty of natural wood into the design. This is another way to ensure there is plenty of connection with nature and helps towards the zen feel of your home. From walls to floors and doors to tables and chairs, consider using natural wood such as Maple and Bamboo to surround yourself with the outside. There are plenty of ways to create this in your home and feel zen after a day at work.
Pick up some natural elements for your home, with our selection of natural wooden accessories in store, plus pick up a plant or two!